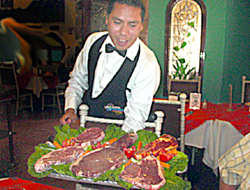 Miguel began by showing us this tray of steaks.
They also offer two each chicken and cabrito dishes and a variety of tacos. No pork or lamb. Only one fish offering,
This is a small part of their very large salad bar. One could make a fine meal from the salad bar alone.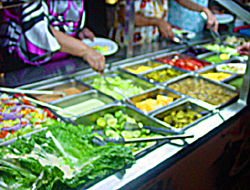 I had this fried white fish with French fries, rice, guacamole and a little salad. I have better at home.
Each of the guys had this large rib eye steak with baked potato, onion and a chile The guys said the meat was very good.
We enjoyed the large cake and ice cream dessert bar
They offer free, covered off-street parking and TV without sound (yea!). Of the three steakhouses we have visited (OK Maguey, Garufa and La Majada), only this one has a salad bar, but their menu has fewer choices of beef and non-beef items. OK is a fine restaurant, but we might not come here again because there are better choices although more expensive.
Total tab with tip was $1,250 pesos = about $25 dollars each for four hungry guys -- the least expensive steakhouse we have visited.