Anywhere you go in Mexico, except the smallest villages, you will find the internet alive and well. There are internet cafes galore. The telephone company (Telmex) is the major internet service provider (ISP), and a number of cable TV companies offer broadband ISP service. There are a growing number of Wi-Fi hotspots; not nearly as common as in the USA, but growing. In some larger cities, there are independent ISPs (which are beyond the scope of this article).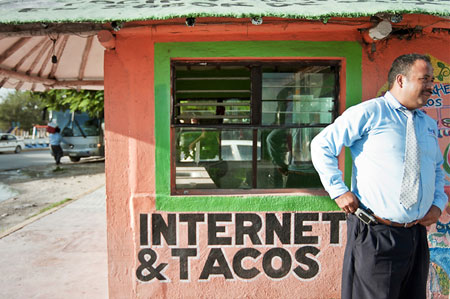 Internet cafes are far more common in Mexico than in the USA. This is because the cost of a home computer plus a telephone plus an internet connection is beyond the means of a majority of families. The cost for using an internet cafe is also much lower than in the USA. The typical hourly rate is about one dollar. The cafes always have printers and usually have CD burners and scanners. Some have a Wi-Fi or plug-in for your portable. Most cafes have high-speed connections. Most also have, unfortunately, a loud TV and a lot of loud school kids. Mac systems are very rare. The Internet Explorer is almost always in Spanish, so you may have need for this IE Spanish>English translation.
Telmex is in the process of phasing out their dial-up service. It may still be available in a few places
Telmex offers two types of internet service.
1. Land line which comes bundled with a phone service. There are several plans offering different nominal download speeds (3Mb, 5Mb and 10Mb) and "free" long distance calling. They offer a wireless modem as part of the service. The modem also includes four ports for wired connections. Service or replacement of a defective modem is free. Read more on their website Prodigy Infinitum. Before you sign up for a 5Mb or 10Mb service, read the TECH NOTE at the bottom of this page.
2. Wi-Fi which does not require a land line and phone. It come bundled with free cellphone time. It is available in two speeds – 5Mb and 10Mb.
Signup at your local Telmex office.
Prodigy is also a content provider and e-mail service. I do not use that part of Prodigy. I have read a number of reports that some ISPs in the USA block Prodigy's e-mails because so much spam originates from there. I find that my Hotmail.com e-mail works just fine.
The costs and services provided by cable TV companies vary from city to city just as in the USA. Contact your local cable company for information. In my city, the cable broadband service cost less than the basic Telmex DSL.
Wi-Fi is spreading fast all over Mexico. As in the USA, there are both free and pay hotspots. Some airports have some kind of Wi-Fi service. Most (all?) MacDonald's stores have a free service.
If you are serious about using Hotspots in your travels, you should invest US$25 - $30 in a Wi-Fi finder. A Wi-Fi finder is a small, portable, battery operated device that locates wireless hotspots so you don't have to turn on your laptop to see if a network is available. Most are very small keychain models. Most have a single button and three or more LED lights. Depressing the button starts the device searching for Wi-Fi signals. If nothing is detected, the LEDs remain off. One light means a weak signal, while the strongest signal will light all the LEDs.
Here are some websites that list both free and paid hotspots in Mexico. None of these is anything like complete. New Wi-Fi spots are being added daily.