Nery an I came here to check out the place to see if we should bring the other guys for one of our monthly lunch parties -- not likely. This is the sixth steak house we have visited. Unfortunately, it ranks last on our score card. There is ample parking and good handicapped access (important to me). The dining room is large, uncrowded and has comfortably large tables. The air conditioning is excellent. Their website is here.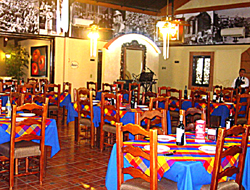 The tables are adorned with colorful clothes, but the napkins are paper and much too small.
I have complained in these pages before about slow kitchens in steak houses, but this one was really slow.
The salad bar was small and had only raw veggies -- no pastas, soups or casseroles. Another last place finish.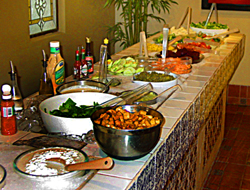 For starters, we each had buffalo wings with sour cream abd mashed potatoes. Good, but too much for a starter plate. The wings were large, certainly not supermarket chickens.
I had shrimp wrapped with bacon, over cooked, served on a bed of dry tasteless rice with an under ripe avocado and a curl of tomato. Huarichick .does a much better bacon shrimp.
Nery pronounced his steak excellent with a baked potato and two chiles.
We were both too stuffed to have dessert.