The concrete guys are back to make the north roof.
Iniz and Jose are on hand to vibrate and smooth the concrete.
We ran short of water, so we hauled some from the town water station.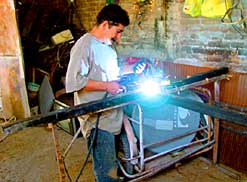 Coco is building standards for the roof top clothes lines.

Now they are in place, well anchored in the concrete. The first one (left) is set in a parapet column. The other two are set in the large beams that run across the living room.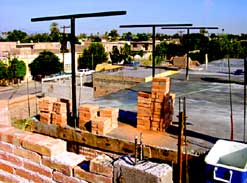 ¿Why did we run out of water? We began with three barrels full of water, but we used it faster than it could be replenished by the city water system which seemed to be having a bad day. Often there is not enough water pressure to reach up to the roof. The storage tanks on the roof will often be refilled only late at night when the demand on the city system is low. Chronic low water pressure is a common problem all over Mexico which is why so many homes have roof-mounted water tanks. Our water stays on all the time, unlike some cities; and it's safe to drink right out of the tap. I find it interesting that Lerdo is on a desert, yet we have ample, good quality water.