Not much to report this week.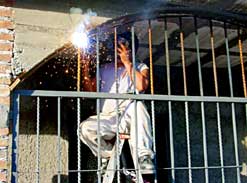 Coco finished the upper part of the front wall iron work.

The forms for the north house roof are in place, and the rebar framing is well underway. Iniz and Jose have almost finished the stucco on the lower level of both houses.

But overall progress has been a bit slowed this week because of sickness and rain days thanks to Hurricane Kenna.