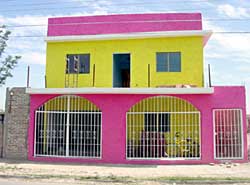 Coco painted the front iron work. The balcony hand railing will follow soon.

The door maker installed the five interior doors in Rosa's house. Then he quit saying he was too busy to make the other 13 doors we need. Now we have to find another door maker. Ugh!

The unfinished brick work on the front wall is where the four electrical meters and four water meters will go. I hope we have them installed in the next couple of weeks. We need to get connected to the power lines. The power company caught us 'borrowing' power for the paint sprayer. No big trouble; just a promise not to do it again.

Iniz and Ruben completed kitchen tile in two of the units and now are laying floor tile in Coco's house. They should finish that in another week. Then we will have left to do tile in two kitchens and all four bathrooms. With good luck we should be finished with all the tile and painting by the end of May.

In the utility rooms, the electrical, telephone and TV cables are ready for me to connect.