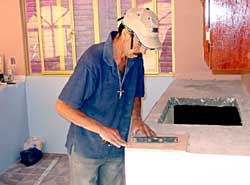 Iniz is starting the tile around the kitchen sink.

Ruben cuts and prepares the tile for Iniz to lay.

Below is the completed work ready for the kitchen sink and some paint touch ups.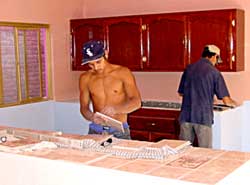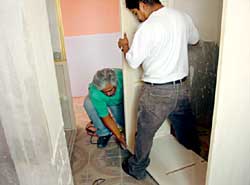 Now one set of bathroom cabinets is done -- three more sets to go.
Jesus built the two bathroom cabinets in his shop with screws but no glue. Then he took them apart for transport to the job, where he reassembled with screws and glue.
The cabinet has shelves on the left and a tall space on the right for mops and brooms. There is additional storage space in the top compartment.
The other matching cabinet (not shown) is the same height as the washing machine so it can be a layout table for laundry with storage below.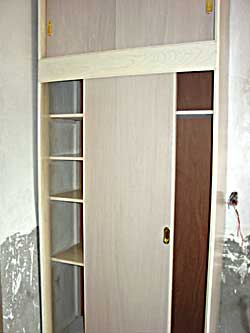 Standing on the left end is Doņa Martha Valdepeņas along with 6 of her 8 children and spouses and 8 of her 16 grandkids. There were 20 of us loaded into 2 pickups.
Even Santa Claus got into the swim. But he decided against riding on the log. He'll stick to his sleigh.
These are the families of the house project. Standing from the left are Gabriel and Martha, Michael and Rosa, Rayo and Coco. The 4th owner is Enrique's daughter Andrea, the little girl in the front row left.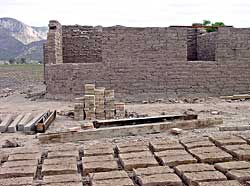 Along the way to the river, we passed this adobe house under construction. This is the first new adobe construction that I have seen in the area.

The adobe bricks are being made right on the jobsite. You can see the molds on the left. In the top right there is a pile of straw. The dirt is all around, and water comes from the near-by river.