The wedding took place in the morning at the city hall (as required by law). The party took place in a large, very nice open-air party venue next door to Las Casas. There were about 200 guests -- family and friends. The festivities went far into the night (I bailed at 2:00AM). This was my first Mexican wedding.
The groom's father, Enrique, and his youngest brother.
The bride's parents, Filiberto and Sandra.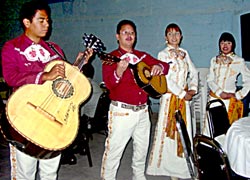 First the mariachis came and then the disc jockey took over for an evening of very loud music and dancing.
Computers have replaced the turntable and records. Perhaps we should call the operator a computer jockey or, maybe, a digital jockey.