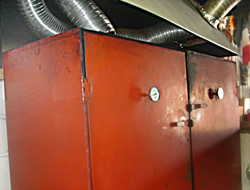 Tito's in the only BBQ place in Laguna. Texas-style BBQ slow cooked over a mesquite wood fire. It's owned by a Texan and operated by his in-laws. That's his father-in-law working the kitchen.
Really great pork ribs and beef brisket. And my dogs go crazy for the bones. Their pork ribs are every bit as good as Tony Roma's St Louis ribs at a lower price.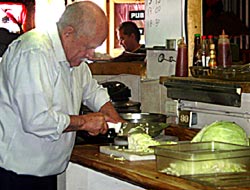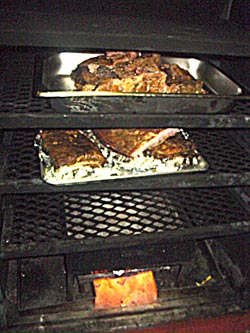 Inside the left door of that giant smoker are a tray of pork ribs (top) and a tray of 3 briskets with a fire at the bottom.
The picture below is the Platillo Combinado, the combination plate. The side dish has the brisket and too many fries. The main plate has coleslaw, 2 ribs, more fries and the chamorro (pork leg) -- very good, and a lot to eat.