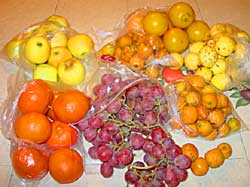 It's New Year's Eve 2004. Tonight's family party will feature ponche, discada and chocolate cake.

Doņa Martha is making ponche with apples, oranges, tangerines, guava, grapes, sugar cane and tejocotes (also called Mexican hawthorn).

The fruit is cut into medium size chunks without pealing or deseeding, except for the tangerines and the sugar cane which are pealed.

The fruit will be simmered in plain water with cinnamon and sugar added to taste. The cooking will last for an hour or more until the fruit is quite soft and the flavor of the liquid is fully developed. Sometimes she replaces half the water with apple juice -- which I really like. Sometimes prunes and raisins are included.

The heavy things -- sugar cane, oranges and seeds -- will sink to the bottom with the small, lighter fruit floating on top. When the ponche is ladled into cups, a bit of fruit is included. A bit of rum also goes well in a cup of hot ponche.