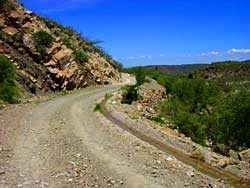 Above is a view of the best part of the drive. Along the side of the road is a tiny concrete aqueduct that brings water to a village in the valley below.
Getting to the hacienda is not easy. It is only 10 miles from the nearest paved road, but that short distance takes 40 minutes in a pickup with good clearance. I doubt that a passenger car could make it. In wet weather, four-wheel drive would be required near the hacienda. There are no guard rails anywhere along the single lane road.

The local folks seemed to rely mostly on burros and horses. We saw one pickup and four burros on the road. The road was awful but the traffic was easy.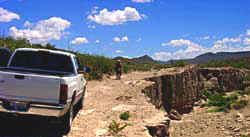 As we neared the hacienda the road became almost impassable. Here we stopped to assess the road ahead when a man on a burro road up. He advised us not to proceed and told us of an alternate route. We had to back up about 100 yards.

The work is well underway with a new roof on the main building, new floors, plaster walls, and a major cleanup of the outside.
The old chapel also got a major face-lift.