La Fiesta de Nuestra Señora de Guadalupe
The Feast of Our Lady of Guadalupe
For a better understanding of this story, please read La Reliquia first.
For more than 500 years Our Lady of Guadalupe (aka the Virgin of Guadalupe) has been the heart and soul of Mexico. Many say She is Mexico. Of the many holidays in this land of fiestas, December 12th, The Feast of Our Lady of Guadalupe, is the most elaborately celebrated. The danzas have been practicing five nights per week for the past two months, costumes have been cleaned and readied, school bands have been rehearsing, neighborhood groups have assembled material to build altars in the streets, and folks from every walk of life have begun to arrange their schedule to participate in the celebrations.
Some danzas modify the costumes they wore for St Jude's Day; some have costumes designed especially for the Virgin.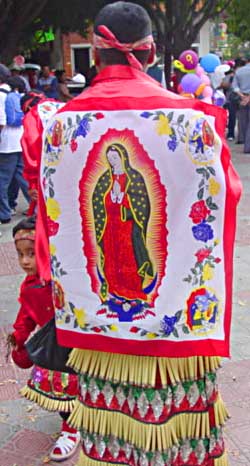 Father and daughter dancers.
Every afternoon at 4:00 for the week preceding 12 December (a Sunday this year), several danzas will be assigned to do the daily two-mile march from the plaza to a large church on a hill on the western edge of town. Different danzas are assigned to participate each day,
On Monday we see a group assembling at the plaza. They do a performance at the plaza and then begin their march. They are this day's lead group.
They will be followed by two other danzas, a school band, a drum and bugle corps from another school, a group of students, and two large groups of town's folks.
This day's parade will be about two hours long -- that is it will take two hours to pass by. There will be a few breaks to allow traffic to flow on the cross streets, but still the west side of town will be a traffic nightmare from about 4:00 to 6:00.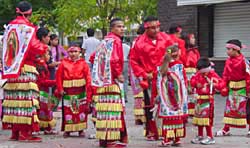 This school drum and bugle corps arrives at the church.
Followed by one of the large groups of the faithful who have made the two-mile, mostly up-hill march.
Some of the costumes are not...shall we say...traditional.
While the daily parades continue, work begins on several dozen altars all over town. These will serve as backdrops for danza performances beginning Wednesday night. There will be three to four hours of performances Friday and Saturday. Sunday, 12 December, will see twelve hour marathons at the altars with danza terms moving from one altar to another throughout the day as a grand finale tribute to Nuestra Señora de Guadalupe.