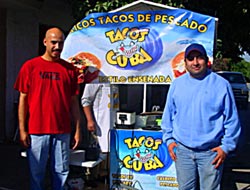 My friend Nery and I had Sunday brunch at his cousin Ernesto's fish taco stand.
Ernesto and his uncle Antonio make fish tacos, fish soup and ceviche from 9:30 AM until 6:00 PM every day.
At night Ernesto attends college classes in computer technology. He attends the same tech college as Nery. He and Toņo are both bilingual after having lived in USA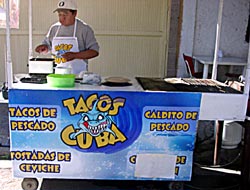 Each piece of fish is coated with flour and egg
Then dropped into a deep fat fryer.
Plating begins with a piece of freshly fried fish on a fresh tortilla.
Then Ernesto piles on some shredded cabbage.
Topped with a salsa of diced onions, tomatoes and cilantro.
These were really good. We both pigged out -- Nery = 6, Rolly = 5.
Hot sauce was on the table along with an endless supply of limes.
We did not try the fish soup.
Ernesto gave me some ceviche to take home. Excellent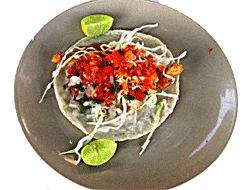 We arrived while the guys were still setting up. This gave me a chance to see the great lengths they went to to ensure cleanliness. I was impressed.
They used sanitizing hand spray before touching the food.
They have a large number of plates. And since the stand is in front of Ernesto's house, it's easy for them to wash plates when the supply of clean ones runs low..