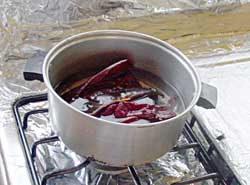 There are, perhaps, as many ways of making enchiladas as there are cooks in Mexico. Doņa Martha is making enchiladas Durango style -- my favorite.

The ingredients are ancho chiles, your choice of a hot chile (optional), garlic, chocolate, cheese, onions and fresh corn tortillas. Rice and salad as you wish.

The anchos are deseeded and boiled for a few minutes to soften. The hot chiles are fried briefly before being added to the blender along with the anchos, a clove of garlic, a chuck of chocolate and a cup of water. For a stronger flavor, use the water the anchos were boiled in.

The puréed sauce is returned to the stove to be thickened.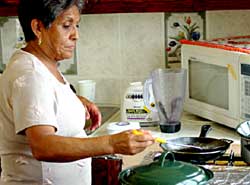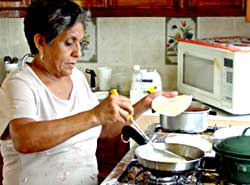 Meanwhile grandson Chico is grating the cheese. Any firm cheese with a fairly strong flavor will do. I prefer Chihuahua cheese. Add chopped onions and the filling is ready. On other days she makes the enchiladas with shredded chicken, pork or beef.

Fresh tortillas are fried briefly to heat well and then drained, and the assemble begins.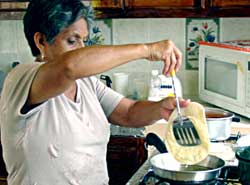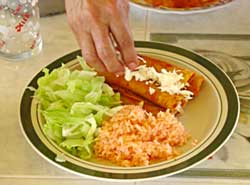 A hot tortilla is dragged through the sauce, a bit of filling is added, and it's rolled into an enchilada.
A little cheese is added on top and served with rice and a salad for an excellent meal.
The enchiladas can be made ahead and reheated in a microwave with only a little loss of flavor and texture