In Laguna there are 5 stand-alone Chinese buffets and numerous mall and super market stalls. This is the largest, and I think the best, Chinese buffet in all of Laguna, and it's just down the street from my house.
They offer 25 hot dishes, three soups, and a desert bar. $80 pesos for all you can eat. Unlimited soft drinks and a delicious Jasmine tea are included. They also offer a very large take-out carton. While some of the food is a bit more Mexican than Chinese, it is still tasty, and the price is right. I miss some of the traditional dishes such as sweet and sour pork, kung pao shrimp, and won ton soup. Dim sum would be too much to dream of in this land of fried food.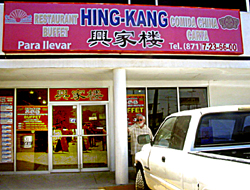 The buffet is operated by a Chinese couple and several relatives who emigrated from China ten years ago.
I have observed that when the family sits down to eat, they always have a large bowl of white rice. White rice is not on the serving line, only fried rice. They also use their family table ware; you can see the large bowls.
Chico and Brenda joined me for lunch. This is their favorite restaurant.
We came early so I could take these pictures before the always large lunch crowd arrived. The restaurant does a very brisk lunch business.