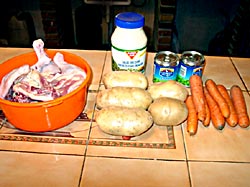 The ingredients are chicken leg quarters, potatoes, carrots, peas, salad dressing, lettuce, and elbow pasta. Mayo can be used in place of the salad dressing. My favorite is cream.
The process begins by boiling (separately) the chicken, potatoes, carrots and pasta.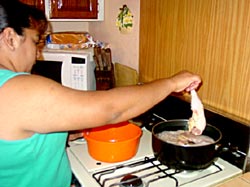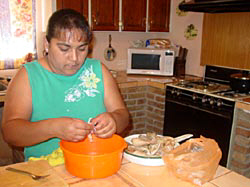 After the ingredients are cooked, the diced potatoes and carrots are added and stirred into the pasta. Next Gaby shreds the chicken after removing the skin and visible fat. Then the shredded lettuce and peas are stirred in followed by the salad dressing.
Diced chiles can be added as desired.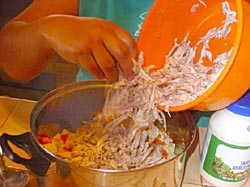 A similar dish is made using diced ham rather than chicken. When Doņa Martha makes the ham salad, she uses cream. Excellent!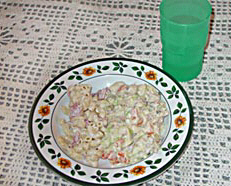 The final product is a bit globby looking, but it is very tasty. I like it a lot.