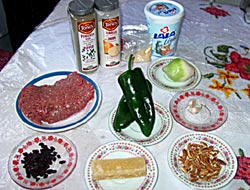 Today Adriana is preparing her version of the classical dish.
The ingredients are, from the bottom left, raisins, bisnaga (more about that later), walnut pieces, a kilo of lean ground beef, a couple poblano chiles (representing the 20 she prepared last night), 2 cloves of garlic, an onion, black pepper, onion power, garlic flakes, and cream.
She begins by chopping the walnuts and cutting the bisnaga into small pieces.
A diced onion is added to the ground beef which is then well seasoned with black pepper, onion powder and garlic flakes.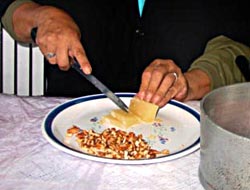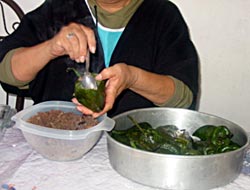 The chiles were roasted and pealed as we saw in Doña Martha's Chiles Rellenos.
Because this is a long, tedious process, she prepared the chiles last night.
She adds the meat mixture and closes the slit in the chile with a toothpick.
She lays the stuffed chiles in a dish ready to be covered with the sauce.
For the sauce, she blends a couple of cups of cream, half of an onion, two cloves of garlic, and black pepper to taste.
A little whole milk is added to thin the sauce so it will pour easily over the chiles.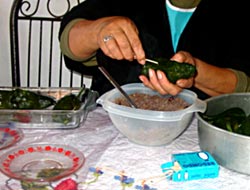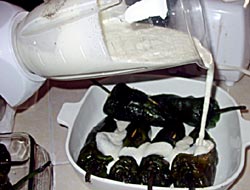 When the chiles are completely covered with the sauce, the dish is covered with foil and placed in a 350° oven for 20 minutes.
In the classical dish, ground or crushed walnuts would have been added to the sauce. Adriana prefers to add the walnuts to the meat.
I have had the dish both ways, and I like her version better.
When they are in season, pomegranate seeds are sprinkled over the top for added color and a taste treat. Since this story was done in January, there were no pomegranates.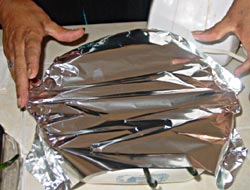 Bisnaga (also spelled visnaga and biznaga which is scientifically correct) is candied barrel cactus (biznaga), which is probably hard to find outside México. I think it tastes a lot like honey comb which might be a good substitute; candied pineapple might work as well.